WELCOME
to
Canine-Megaesophagus: All About ME!!!
 This is an on-line, free site ("book") that was set up using a website to make finding and using the comprehensive compilation of canine Megaesophagus (ME) information easiest for you.
It was created to provide easy, organized access to as much information as possible for your ME dog and its management care, but also to give you other subject matter associated with canine Megaesophagus.
The site allows you to find what you need quickly and read new, additional information periodically when available.
This is the result of 7 years and hundreds of hours spent accumulating what can give you best insight to the full canine ME picture. It is designed using titles and words relative to what we know and use as owners.
DISCLAIMER
THIS SITE DOES NOT PROVIDE MEDICAL ADVICE
All information, content, and material of this site is for informational purposes only and is not intended to serve as a substitute for the professional consultation, evaluation, diagnosis, and/or medical treatment of your dog by your veterinarian. The information contained on this site is not intended to recommend the self-management of health problems or wellness for your dog. The information provided on this site is designed to provide helpful information on the subjects discussed and is not meant to be used, nor should it be used, to evaluate, diagnose or treat any medical condition for your dog. No information contained in this site is be used by any reader to disregard medical and/or health related advice or provide a basis to delay consultation with a veterinarian.

MEDICAL EMERGENCY
For consultation, evaluation, diagnosis or treatment of any medical problem with your dog, consult your own veterinarian. If you have a medical emergency, call your veterinarian immediately or take your dog to an animal emergency hospital.
GENERAL WEBSITE (BOOK) INFORMATION
The information contained on this site is compiled from a variety of sources and is not considered complete. The information accessed through this site is provided "AS IS" and without any warranties, whether expressed or implied. The author is not responsible for any specific health or allergy needs of your dog that may require medical supervision and is not liable for any damages or negative consequences from any evaluation, diagnosis, treatment, action, application or preparation, to any person reading or following the information contained herein. References are provided for informational purposes only and do not constitute endorsement of any websites or other sources. Please make sure that you understand that the information provided here is being provided freely, and that no kind of agreement or contract is created between you and the owner of this site. Readers should be aware that the information presented on this site may change. This site may contain health- or medical-related materials that are more explicit then you like to read or see. If you find any materials offensive, it is your choice not to use this site or those particular pieces of information. This site does not endorse or recommend any particular type of specific tests, veterinarians, products, procedures, opinions, medical treatment or other information and doing so is at your own risk. Should any reader have any health care related questions regarding your dog, promptly call or consult your veterinarian. You should not use any information contained on this site to initiate use of dietary supplements, vitamins, herbal and nutritional products or homeopathic medicine, and other described products prior to consulting first with your veterinarian. Please be advised that nothing found here has necessarily been reviewed by people with the expertise required to provide you with complete, accurate or reliable information. That is not to say that you will not find valuable and accurate information. However, the author cannot guarantee the validity of the information found here. The content of any given article may recently have been changed or altered by someone whose opinion does not correspond with the state of knowledge in the relevant fields presented on this site.
HOW TO ACCESS AND USE THE INFORMATION
The "chapters" are arranged alphabetically to your left. Many have sub-chapters below them that contain associated information pertaining to the main idea.
Click on any of them and it will appear in the viewing area middle of the page.
Also included on many of the pages are links to articles, videos, other sites, pictures, etc. so click on any of those (will be shown in blue) and you will be taken directly to that point of interest.   
I HONOR OUR BELOVED SONNIG WITH THIS EFFORT
This monumental effort has taken seven years and hundreds of hours to get it to the usable site you see here but was done from my heart to each of yours in honoring our precious angel ME GSD Sonnig. Years ago our most beloved Sonnig was diagnosed with Megaesophagus at 8 ½ years of age. We were devastated, terrified and beyond stressed like everyone else who hears this horrible news. All we could think about was doing everything humanly possible for her to thrive and live with the greatest love and quality of life possible. Our wonderful veterinarian had to deliver the diagnosis and instruct us as to management care which at the time was what we needed the most to understand the basics needed for her to live.
My husband, Mike, and I relied on our backgrounds to get everything in place because I never knew "support" groups existed for the first 5 months but we established her individual protocol quickly. Mike could figure out nutrition and I did the positioning to get her upright by walking around the house looking at what we had that might work. It took only 2 days for Sonnig to understand her position for eating…which became one of the first accepted alternatives for a large breed dog not using a chair. She would run into the bedroom, jump up and over the ottoman and land in-between our feet and place her paws on the bed where we had established her upright eating protocol.
Here is how Sonnig would eat for 3 years: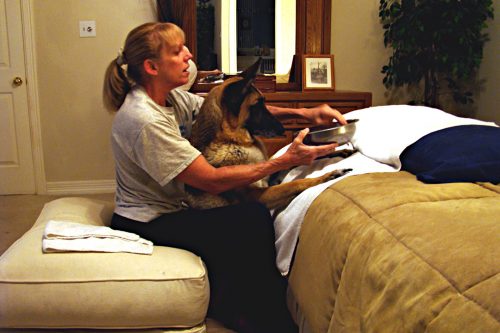 We were extremely blessed with several parts of Sonnig's situation. 1) We had an amazing veterinarian (still is today) who cared enough to do everything he could to help her live as long as possible with best quality of life. He even joined the support group I did when we found it so he could see more of what was being used successfully. 2)She was so smart that by the second feeding, she realized how good it felt for food to get down and stay down so we never had to worry about her not eating or regurging. Strangely, she never regurged again after only doing so for a full night the day before diagnosis. 3) Due to how odd her timing was with diagnosis, but also what we could describe to our veterinarian about her at 8 weeks old, it appeared she had somehow managed this for over 8 years on her own. 4) Sonnig was able to become the first DNA swab accepted into Dr Leigh Ann Clark's ME study at Clemson University. It began her study of German Shepherds having ME which I believe she finally completed. Sonnig is seen in memorium on her site. 5) Sonnig was so easily managed after eating but that piece would steal my heart forever when she left. She would turn around and have legs up on mine so still in perfect upright position. I would hug her, sing songs and create dumb poems, but most of all tell her how much we loved her and admired her for handling this disability so gracefully.
For the first two years, our beautiful, most loved girl thrived. She had to grieve like we did when we lost her brother very suddenly due to a horrible health issue that didn't present until he bloated and successfully had surgery. When we had to lose our precious Panz in just 36 hours, it took our hearts, but we couldn't explain it to his sister. She never ate in the bedroom again as lost interest. I had found the Yahoo canine ME support group by then and they helped with ideas, but it was once again our incredible veterinarian who helped us to more quickly move forward in order for Sonnig to continue to live and thrive. The third year was good too as we had a good working ME protocol so our girl thrived, was loved and cherished, and she enjoyed having us to herself.
Then things changed. Sonnig started having rear end issues and turning one foot under so we decided to do what we could to try find the cause. She was seen by a neurologist and that doctor loved her and never did believe she was an ME dog as she never lost her 75 lb body weight. He saw nothing that warranted more invasive testing but since she wasn't getting better, we had her seen at a great specialty hospital. Incredibly, the owner and doctor who evaluated her knew all about ME and was so thrilled to meet her it was funny. He truly loved our precious girl and was so gentle in doing the testing and evaluation for Myasthenia Gravis which she also didn't have, so we went home with pain meds to use if/as needed.
Our poor dear girl was having such problems dragging a foot that we padded almost every inch of hard floors and patio with carpet remnants so we could stop the toenail from wearing down completely. That helped, but it had affected her ability to be able to be in upright as she had been. So, again my husband and I "created" another position for her by using the end of our couch. We were able to get her almost fully upright with removing the cushion from under her butt and placing pillows under her chest and front end. Finally, she was thriving again at the ripe age of over 11 years old. She loved her days spent lying with us in the sun and being right beside us in the house, but we could gradually see her declining. Since we would not have opted to subject her to cancer treatment at that age, we also decided not to have any further invasive evaluations done on her too. Just didn't feel right to subject her to any more than necessary but we do believe she had cancer.
Two weeks before she passed away, she ended up in ICU at that same specialty center. Since she was hooked up to IV lines in a bottom kennel, Mike and I used the same pillow-type feeding but from the floor up. Her butt was on a soft comforter and front end raised as high as we could safely do without causing her pain and still staying hooked up to IV's. The same doctor who loved her so dearly happened to come by and watched us feeding her. He was amazed at what we demonstrated she could do with eating still in relatively full upright position.
10 days later, the inevitable happened. Sonnig fell at the house while we were there and could no longer get up, so we knew the time had come to say goodbye.
We had lost a few shepherds prior to Sonnig but trying to say goodbye to her was beyond anything my heart would ever experience. The bond we form with our special needs dogs is so strong and close due to the amount of time needed to help them thrive. I remember walking in circles around the house the first few days not knowing what to do with all the time I now had without caring for our beautiful girl. It was horrible!!!!! Then having her returned to us (as all ours are) was just as painful, but somewhat comforting.
We like to thank those who help us when we need it the most, so we took personal letters, framed pics and flowers to our loving veterinarian and the specialty doctor. When I presented them to the doctor at the specialty center, he remarked I should use the knowledge learned through our experience to write a book about helping manage ME. I told him I didn't know enough, but if I ever did, it couldn't be in hard copy (due to costing someone money) to which he said…..place it on-line and I finished the sentence…for FREE!!! So, here I am, seven long years later, missing Sonnig every single day and finally honoring my promise to honor her by writing something like was suggested when she died.
This effort has taken not only physical time, but my heart and soul went into carefully providing what I sincerely hope can help someone else when their dog is sadly diagnosed. If it hadn't been for my loving husband Michael, 3 incredibly loving friends (Linda, Tammy and Diane) I met through our dogs having ME, and our veterinarians, I would never have moved forward with what has to have been God's will. I believe he places you where you are to be for a reason, but mine sure took forever. The "big bump in the road" of getting the rehoming ME dogs effort up and running with another very dear friend Debbie has taken these past 6+ years sprinting to help with so many more ME dogs.
But, I have also used these past 6+ years to become as educated as possible to anything ME due to so many new issues appearing in addition to the ME in too many dogs. Strangely, since we don't just help network but spend a lot of time providing management care…so much so we have helped numerous ME dog owners keep their dog in their home once they see it can be workable….that I started to see how something like this really might benefit others even more. Between that and the way files cannot be organized for easiest use and people being told to "go look in the files" it became clearer that now was the time. I know how it felt at the beginning and if I asked for help, I had no idea what was needed and sure didn't want to have to dig to try to find it in with other pieces of information not relative. I also wanted it in short, concise wording again to take it to our veterinarian to discuss then use quickly if he agreed.
I truly hope you can use this informative site for educational purposes as I continue doing the same for me as well. What is placed here was a labor of love for our beloved Sonnig to honor her memory of showing so many how these dogs can live such great quality of life even when diagnosed later in life. May this site act as my gift to our beloved Sonnig that will remain available as long as possible in the future with additions being added when possible…."evergreen".