PRAA surgery start to finish basics:
This evaluation and successful surgery was done by Dr Michal Huddleston at Westheimer Bellaire Animal Clinic,7005 Mapleridge St, Bellaire, TX 77401 713.622.1270. He has been doing this surgery successfully for 11+ years for rescues, individuals and dogs that otherwise would not be afforded a chance to live a normal life.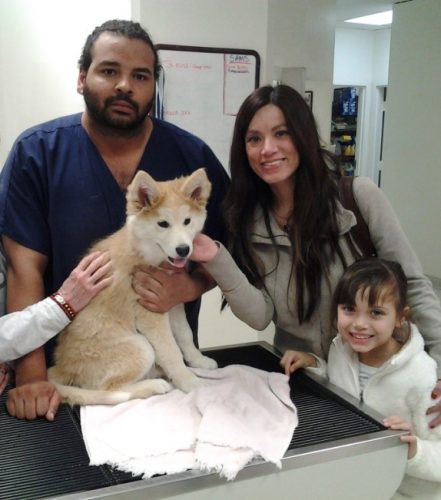 (Per Dr Huddleston) "This is ME Husky puppy Chloe (shown with a vet tech, her owner Christie and daughter).
She had a condition that prevented her from being able to swallow correctly due to a band of tissue that was supposed
to dissolve at birth but didn't. When she would eat, the food would pool at the base of her esophagus and she would regurgitate.
To correct this condition we had to open the chest and resect the band of tissue that was between the aorta and the pulmonary artery. This opens the blocked esophagus and allows food to travel to the stomach. Chloe is having a normal recovery and is now doing well.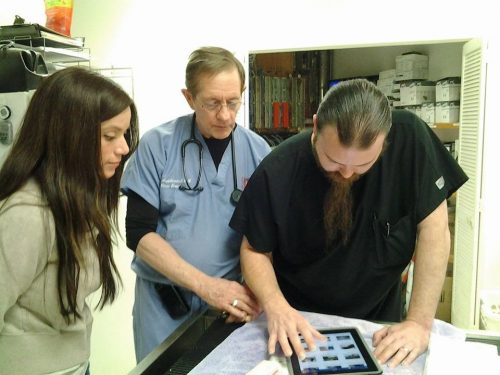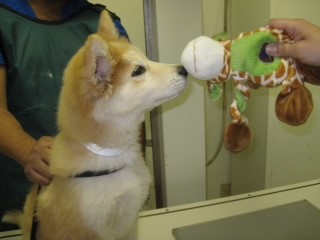 Dr Huddleston and Jason reviewing Chloe's test results                                                            This is Chloe right after getting the barium introduction for her barium study to evaluate if PRAA.
This toy held her attention and kept her head elevated so she wouldn't aspirate the barium.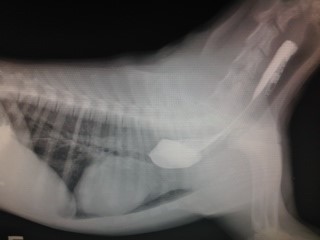 One of Chloe's barium study pictures
Chloe's Persistent Right Aortic Arch (PRAA) 20 pics of actual surgery 1/21/14
https://www.facebook.com/westheimerac.bellaire/media_set?set=a.10201616499678905.1073742009.1370932294&type=1
Video of cutting the band near Chloe's heart (so cool to finally see this)
https://www.facebook.com/video.php?v=10201616753085240&set=vb.1370932294&type=2&theater
Video of Chloe eating just 24 hours after PRAA surgery
https://www.facebook.com/video.php?v=10201620686343569&set=vb.1370932294&type=2&theater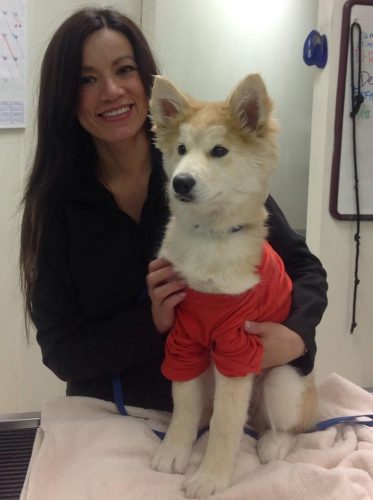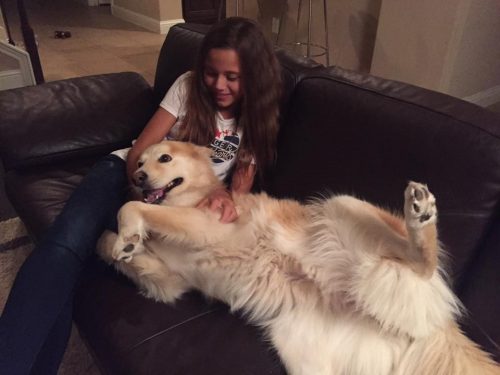 Chloe 48 hours after PRAA surgery                                         Christie with Chloe after a successful PRAA surgery and ready to go home                                        Chloe has been in full remission from ME condition since surgery
Christie and her daughter are so thrilled they have a fully active, healthy, growing girl. Chloe now as the most loving, happy, girl who totally resolved her ME due to having the PRAA surgery.
We now have so many wonderful DVM's and specialty DVM's in the US who are successfully doing this surgery but at a much more manageable cost. This has allowed so many more of these dogs to have the surgery which in turn has made the home life so much easier not only on the owners but the dog as well. We even have numerous folks travel long distances to have this done at one of those locations. The 100% success rate by those we know, shows their dedication to helping provide best quality of life as opposed to making the cost so huge it can't be considered.
SPECIAL NOTE: In considering who might perform your dogs PRAA surgery, make sure you verify that surgeon is fully prepared to take all precautions from start to finish. IF you have questions or doubt their ability to safely perform the surgery on your dog, please contact us and we can place you in contact with one of the many safe options hopefully in your area of the US. Also, there are several DVM's (Dr Huddleston included) who are not specialty folks, but have the training, background, history and record of 100% success rate over years of safely performing this surgery.
Sadly, as our adopted by owner surrender ME GSD Gretyl had to experience, there are few who will say they can do this, but are NOT doing so safely and one not at all. Gretyl's "first" (this is your clue how horrible this became because the band does not grow back) PRAA surgery was not performed properly at all but recorded as completed. The damage caused by someone unwilling to send her to a surgeon highly skilled in this procedure nearly caused her death. Short story is we are blessed to have had a rescue in her area find us quickly, we got her here immediately and Dr Huddleston saved her life by performing the PRAA surgery properly. It was what was found and had to also be corrected during that surgery that was horrifying due to inexperience from the first source. But, doc had her for 6 weeks then she came home to be ours forever. Another note here is that due to that first DVM also never giving any advice of proper ME protocol, Gretyl has a large pouch that formed from eating in horizontal. She will regurg the rest of her life, but we have that down to minimal so she is a very happy, healthy girl at 4 years old now and that DVM is no longer "performing" that surgery.