Resources for financial help with veterinary bills:
You don't have to be on a fixed income, such as receiving SSI, SSI-D, Retirement benefits to realize that if you have a pet there may come a time when one needs a substantial amount of money to pay for veterinary medical bills, which, lets face it, can sometimes be staggering. If one loves the pet(s), one wants to do everything possible to keep their pet healthy, but what if something comes up, some medical issue that is perhaps catastrophic and costly and one just doesn't have the financial resources to pay the bill? There are some financial resources one can turn to in such a case, and I've compiled a listing that may be of help to you.
Vet Care – Bridges to Home
https://www.facebook.com/notes/bridges-to-home/vet-care/2046414735422449/
Financial Assistance for Veterinary Care: When clients can't afford to pay for a pet's treatment, everyone loses. The animal suffers or is euthanized; the owner grieves from loss or guilt; the veterinarian aches knowing what could have been done. Thankfully, due to the recent recession, numerous nonprofit organizations have been created to help pet owners pay for veterinary care they cannot afford. For high-end costs, such as cancer or orthopedic surgery, most of these organizations will kick in part of the necessary cost, not all of it. For smaller needs, such as dentals in a diseased mouth, some organizations may foot the entire bill. Some routine care is covered, although most of these funds are for emergency or long-term treatment. The organizations listed below that are based in the United States are listed at Guide Star as having a 501(c)(3) nonprofit status, unless otherwise noted. Before applying, be sure to read the organization's guidelines, and be certain to fill out the entire application. If you know of an organization offering assistance with veterinary treatment bills and would like to see it listed here, please email it to Feedback@VeterinaryPartner.com.
Disease-Specific Organizations:
–   Big Hearts Fund, for heart disease
–   Canine Cancer Awareness, cancer treatment for dogs
–   Diabetic Cats in Need, for shelters, rescues, low-income owners
–   Dog and Cat Cancer Fund, cancer treatment
–   FETCH a Cure, for pets with cancer
–   Joshua Lewis Cancer Foundation, pets with cancer
–   Magic Bullet Fund, dogs with cancer
–   PieFund, focuses on cancer
–   Riedel Cody Fund, cancer treatment
National Organizations in the United States:
–   American Humane Association's Second Chance Fund, for nonprofits helping homeless victims of abuse or neglect (numerous species)
–   Brown Dog Foundation, for sick pets that would likely respond to treatment
–   Cody's Club, [not a 501(c)(3)] radiation treatment at nonprofits
–   Feline Veterinary Emergency Assistance, for cats with life-threatening illness or injury
–   Frankie's Friends, for emergency and specialty care
–   Handicapped Pets Foundation, provides equipment
–   International Association of Assistance Dog Partners, for assistance dogs
–   Mosby Foundation, critically sick, injured, abused and neglected dogs0
–   National Equine Resource Network, life-saving surgeries or treatments
–   Onyx and Breezy Foundation, medical treatment for hardship
–   Paws 4 a Cure, illnesses and injuries
–   Pet Assistance, emergency and urgent care
–   Pet Fund, medical costs beyond normal expenses
–   RedRover/United Animal Nations, grants between $100 and $200 to fill small funding gaps
–  Shakespeare Animal Fund, for those meeting federal poverty guidelines
Regional Organizations:
–   Actors and Others for Animals, for low/fixed income owners in Southern California
–   Animal Care and Welfare Inc., emergencies in Pennsylvania
–   Becky's Gift Equine Relief, for horses in New Hampshire
–   Care for the Horses,
–   Bow Wow Buddies foundation by Camp Bow Wow

Animal Friends Rescue Project Website: Go to the website link, and click on each provided resource which will take you to that page/website. I'll provide the website address and a description of each.
http://www.animalfriendsrescue.org/financialassistance.html
Description: Financial Assistance for Pets
Often animals are put down or suffer needlessly because their owners cannot afford expensive surgery or emergency vet visits. Companion animal owners must often make the difficult decision to put an animal down or neglect urgent medical needs because of the costs involved. While costs are an inevitable part of the responsibility of owning companion animals, the reality is that many pet owners find themselves in the position of not being able to provide much needed, life saving and life enhancing medical care for their pets. We have provided links to several programs that help pet owners cover emergency medical expenses or other lifesaving medical treatment.
• AAHA Helping Pets Fund
• Angels 4 Animals
• Care Credit: No Interest Payment Plan for Veterinary Care
• Cats in Crisis
• Feline Veterinary Emergency Assistance Program (FVEAP)
• Help-A-Pet
• IMOM
• Labrador Life Line
• Shakespeare Animal Fund
• The Pet Fund
• United Animal Nations – Lifeline Program
• United Animal Nations – Resource ListAn extensive list of additional organizations that give assistance for specific breeds, specific diseases, or by state.
AAHA Helping Pets Fund:
http://www.aahahelpingpets.org/
As the benevolent arm of the American Animal Hospital Association (AAHA), the AAHA Foundation seeks to improve the lives of pets. The AAHA Helping Pets Fund works with AAHA-accredited veterinary practices to identify pets in need. Accredited practices may then apply for assistance from the Fund for emergency and non-elective treatment of abandoned pets and pets whose owners are facing financial hardship.
Angels4Animals | Guardian Angels For Animals:
http://www.angels4animals.org/index.html
117,000 Pets areEuthanized or ForfeitedEvery Week in the United States
The true measure of a society is the care that it provides to the innocents and less fortunate. Most Americans are unaware that 117,000 pets are euthanized or forfeited every week in the United States. The reasons behind this high number may surprise you. Thousands of pets are put to sleep by reluctant pet owners, who are faced with financial challenges that prohibit them from rendering emergency and necessary medical care for their animals. Veterinary care can be very costly often requiring hundreds, or thousands of dollars. Unexpected veterinary bills have caused many pet owners, struggling to make ends meet, to make painful decisions involving the life of their pet. Pet insurance cannot solve this problem as it is generally expensive and offers only limited coverage. Angels4Animals, a non-profit organization and a program of Inner Voice Community Services, has a mission to serve as the guardian angel of animals whose caretakers find themselves in difficult financial situations. At Angels4Animals we believe that animal owners should not have to say goodbye to the animals that they love. Our work is accomplished in conjunction with veterinary clinics across the country, eager to assist as many animals, and their owners, as possible. Our services range from financial aid to complete treatment to those pets and pet owners in need. While pets and their human caretakers rely on us, we rely on the generosity and support of our donors. We ask for your help in fulfilling the promise of our society in caring for animals that otherwise would go without treatment, or worse.
Care Credit: No Interest Payment Plan For Veterinary Care:
http://www.carecredit.com/
Cats In Crisis: Cats in Crisis Inc. is a 501(c)(3) non-profit organization dedicated to helping cats and kittens with special medical needs receive the veterinary treatment they need to live happy, healthy lives.
http://www.catsincrisis.org/index.html
Feline Veterinary Emergency Assistance:
http://fveap.org/
Welcome to Feline Veterinary Emergency Assistance
We are a 501(c)(3) Nonprofit Charity Organization (EIN #16-1624014) that provides emergency financial assistance to cat and kitten guardians who are unable to afford veterinary services to save their companion when life-threatening illness or injury strikes. Seniors, people with disabilities, people who have lost their job, Good Samaritans who rescue an injured or ill cat or kitten – any of these folks may need emergency financial assistance. We also have a specialized dedicated fund (Kobi's Fund) for cats with Vaccine Associated Sarcoma (VAS) (also known as Injection Site Sarcoma).VAS is a group of cancers caused by vaccinations. Please see the Kobi's Fund Page for details. We are not able to assist with routine exams, vaccinations, Insulin, or Spay/Neuter. PLEASE NOTE: Contributions are down and we approve grants as funds become available. We may or may not have funding at any given time. We apologize if we are unable to help.
Help A Pet:
http://www.help-a-pet.org/
Who We Help
• Physically and mentally challenged individuals
• Senior citizens
• Children of the working poor
For such people, pets provide a vital therapeutic aid to daily living, unconditional emotional attachment, and protection. Unfortunately, it is often those who need their pets most who face the fiercest financial obstacles to providing medical treatment for their beloved companions. Applicants must provide proof of income eligibility. Each owner is asked to pay as much as they can towards the cost in order to spread our assistance to as many pets as possible. Cost-sharing with an applicant indicates the owner's commitment to their pet's well-being, and lets you know your donation is being used as efficiently and sensibly as possible.
IMOM:
http://www.imom.org/
"Helping people help pets". To better the lives of sick, injured and abused companion animals. We are dedicated to insure that no companion animal has to be euthanized simply because their caretaker is financially challenged. To educate on the importance of spay and neuter in relation to proven health risks for intact animals. And to offer financial aid for spay and neuter to caretakers who cannot afford to have their pet spayed or neutered.
Labrador Life Line:
http://www.labradorlifeline.org/
Labrador Life Line, Inc. is a 501(c)(3) Not for Profit Organization created to help owners or rescuers of Labrador Retrievers who are in need of financial assistance.
Shakespeare Animal Fund:
http://www.shakespeareanimalfund.org/
To many of us a $50.00 medical bill at the vet is nothing, but for an elderly person on a fixed income, a single mother, a student, and for many others, it's an impossibility. There are many instances of elderly people doing without their own medicine or even food in order to care for their animals' medical needs.
So what do you do if you love your animal but can't afford to pay the bill? Shakespeare Animal Fund, a non-profit charity was founded after the loss of a beloved Cocker Spaniel "Shakespeare". He died after a very costly illness, and in his memory this fund was founded to help others who might face financial problems while trying to save their pet. Let Shakespeare help you! Also, each month SAF distributes 500 lbs of dog food and 400 lbs of cat food. We help anywhere from 150 to 200 people each month including deliveries. Sometimes these pets haven't had anything to eat in days when we rush them emergency food.
You can be a hero to people in need. Support the efforts of the Shakespeare Animal Fund with your donations of funding and of time.
The Pet Fund:
http://www.thepetfund.com/
The Pet Fund is a registered 501(c) 3 nonprofit association that provides financial assistance to owners of domestic animals who need veterinary care. Often animals are put down or suffer needlessly because their owners cannot afford expensive surgery or medical treatment. Companion animal owners must often make the difficult decision to put an animal down or neglect medical needs because of the costs involved. Thousands of animals are sent to shelters and euthanized each year, many because of treatable medical conditions. While costs are an inevitable part of the responsibility of owning companion animals, The Pet Fund assists owners in covering medical costs beyond the normal expenses of vaccination, spay & neuter surgeries, food and routine veterinary care. Adopting a companion animal always involves both expense and commitment, and if owners have a resource to help with medical services, their animals can receive necessary care despite the financial burdens involved. The purpose of the Pet Fund is to work towards a future where decisions about companion animal medical care need never be made on the basis of cost. Perhaps most importantly, we provide information to owners about preventative care, pet insurance programs, and financial services which will ensure that pet owners are able to develop financial resources on their own and avoid future emergencies through care and planning. Such information is often hard to find, and The Pet Fund provides a user-friendly, comprehensive starting place where all of these resources can be easily accessed.
United Animal Nations-Lifeline Program:
(Now known as Red Rover)
http://www.uan.org/index.cfm?navid=28
The RedRover Relief program provides funding to Good Samaritans, animal rescuers and pet owners to help them care for animals in life-threatening situations. Learn more about our RedRover Relief grants and find out the eligibility requirements
United Animal Nations-Resource List:
(Now known as Red Rover)
http://www.uan.org/index.cfm?navId=163#National_organizations
RedRover has compiled a comprehensive directory of organizations in the United States and Canada that can provide financial assistance with veterinary care. This directory includes dozens of grant and loan programs and fundraising tools, and is the most comprehensive resource of its kind online.
This directory is provided as a resource. RedRover cannot guarantee that any of the organizations listed will be able to help in your specific situation, and RedRover does not endorse any of the listed veterinary clinics. Clinics are listed only if they have an emergency fund.
Having Trouble Affording Veterinary Care?:
http://www.humanesociety.org/animals/resources/tips/trouble_affording_veterinary_care.html
Help with vet and pet bills:
http://www.needhelppayingbills.com/html/help_with_vet_and_pet_bills.html
Find resources, many of which are free, to get help with pet bills, including how to get grants and other assistance from the American Animal Hospital Association Helping Pets Fund. As most pet owners will eventually be faced with expensive, unexpected veterinary bills.
Assistance Programs:
http://www.pacc911.org/Assistance_Programs.html
Chip-Ins:
http://www.chipin.com/
Here's another idea…many on-line friends will be more than willing to "chip-in" for veterinary medical expenses…many rescuers do this when they rescue a pet but have staggering vet bills…so..maybe do a chip-in yourself? Explain what you need it for…vet medical biils. One can set up a chip-in here.
Wish Upon A Hero website:
http://www.wishuponahero.com/
Another possible resource is Wish Upon A Hero website.  Wish Upon A Hero is a website that brings together people to help grant wishes big and small. No wish is too large, no hero is too small.
Need Help With Vet Bills or Pet Food? There ARE Resources Available:
http://www.dogingtonpost.com/need-help-with-vet-bills-or-pet-food-there-are-resources-available/
https://www.facebook.com/notes/dachshund-rescue-south-florida/resources-for-financial-help-for-veterinary-bills/10151165829365837?hc_location=ufi
The Pet Fund | Veterinary Care Funding:
The Mosby Foundation Financial Aid:
Financial assistance for veterinary bills:
https://veterinarypartner.vin.com/default.aspx?pid=19239&id=6136808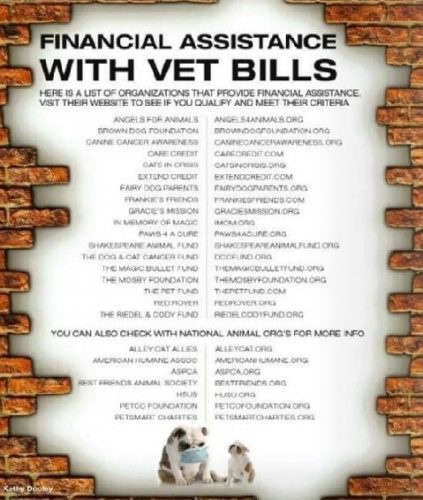 There is a foundation set up to help low income seniors with their dog's vet bills – they have very strict rules but worth investigating and have a history of actually helping (once). visit http://www.budkischarbonneaufund.com
There are numerous organizations that can/might help you with finances. I found them by doing a google on "financial aid for surgery in dogs". The one group that helped me out was United Animal Nations, and they gave $300 towards the surgery. You can also contact American Animal Hospital, Angels 4 Animals, Care Credit, Help-a-Pet, Shakespeare Animal Fund, The Pet Fund, just to name a few. I know there are also breed specific organizations that might help. They all have applications to fill out and usually get back to you right away.
We have a relatively new veterinary center in our area, Advanced Veterinary Care. The veterinarians are NOT specialists, but, are very good general surgeons. We have sent several of our patients to them, whose owners could NOT afford referral to a specialty center or university, and we have been exquisitely pleased w/ the outcome. They are located in Canton, MI. If you are at all close to the area, you may ask your dvm for a referral. They bill the referring dvm. The dvm bills the owner. They are an "extension" of other dvm hospitals.  I would guess that the cost there would be less than at most referral centers. You might ask your dvm to call them.
I got a grant for assistance from United Animal Nation; and there are some breed-specific places that will help, too. You just need to google "assistance with vet care" or pet care and a whole list will come up.
Medications:
For medications: call the pharmacy at Target, here is approx cost a few years ago:
1. Metronidazole 500 mg tablets (we paid 1.03 per tablet) Target up to 14 tabs for $4.00
2. Azithromycin 250 mg tablets (we paid $9 per tablet) Target is $5.99 / tablet
3. Metoclopramide tablets 10 mg (not sure of cost about $30) Target is $6.00 for 90 tablets
4. Sucralfate tablets 1 gram (we pay .81 per tablet) Target $46.99 / 60
5. Albuterol Sulfate inhalation solution .083 (we pay about $20 for a box of 25 vials) Target is $4.00
Nebulizer – EBay or Craigslist will get you one for under $100. Have the vets use this asap (they may have one) – they save lives. You need albuterol to put in it.
Here is how I save money on medications:
By purchasing Mestinon and Sucalfrate at Costco, I saved over 50% on the cost of the vet. Costco allows me to buy as much or as little as I need of the Mestinon, so I get a month and half supply at a time…easier for them to price at certain bottle sizes.
Additional savings buying generic Pepcid at Target, over 40%.
Saving money on food:
Options for cost savings limited and not as great as medications since I use Hills Prescription ID. I prefer some premium brands like Wellness, Taste of the Wild, etc, however, Grizzly seems to prefer the ID and we have less RG. I do mix the ID and Wellness, however, the cost of the canned dog food is quite
similar. I do use other brands sometimes to mix in as long as I can get a chicken sweet potato mixture.
Science ID: signed up on website and received two coupons for $7.00 off 4 or more cans. I buy a case. Costs about $1.62 a can rather than 2.19. OF course, everyone I know has signed up and sends me coupons. My vet offers a 10% discount if purchasing by the case. Sent an e-mail to Science Diet and they sent a few coupons. Other Premium Dog Food Brands — Superbarket.com A local company in Virginia sells a variety of premium dog foods at 20-30% off retail stores. Unfortunately, they cannot get prescription.
I purchase my supplements from Smart-Pak. They pre-measure the daily dosage and I get 28 days of supplements….auto refill each month. The cost is reasonable since I do not have to lay out a great deal of money for large, expensive bottles. I purchase an immune balancer, brewer yeast with garlic since it helps with flea and tick and some dental hygiene powder. There are many options online for supplements, various price ranges….many people on this site have their favorites or recommendations…
I purchase raw apple cider Vinegar from Whole Foods….best price in town. Premium Coconut Milk — Thai Kitchen — purchased at Wal-Mart or Target for appx. 1.29-1.49 a can vs other retailers at $2.99 a can.
Also, Costco and Target offer pet prescription "insurance". You enroll for free and they provide various discounts….not a lot, but, every bit helps.
There is also a new group that helps low income families pay for their animal care:http://www.friendsandvetshelpingpets.org/about/